So you've got your barbie skills down, now to try your hand at something new! We've rounded up a few top barbecue recipes for you to try out this summer.
Smokey Chilli BBQ Pork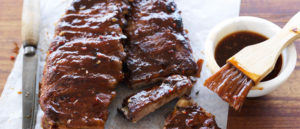 Ingredients
1/2 cup Wattie's Smoked Hickory Flavoured BBQ Sauce
1/4 cup apple cider vinegar
1 Tbsp finely chopped fresh red chillies or 1 tsp dried
2 Tbsp brown sugar
2 cloves of garlic, crushed
1 kg pork slices or pork spare ribs
Method
1. To make the marinade mix together Wattie's Smoked Hickory Flavoured BBQ Sauce, apple cider vinegar, chillies, brown sugar and garlic.
2. Place the pork into a tray and pour over the marinade, ensuring the meat is well coated. Cover and refrigerate. Marinate for 1-2 hours, or overnight if wished.
3. Heat a lidded barbecue to 200°C.
4. Remove the pork from the marinade and set the marinade aside. Place the pork on a rack in a tray or on a lined hotplate. Close the lid. Reduce the temperature to medium–low. Use the remaining marinade to glaze the pork every 10 minutes, turning the meat when this is done.
Cook time will depend on the thickness of the meat. Pork slices will take longer than spare ribs. To test if the meat is cooked, insert a skewer into the thickest part of the meat. When the juices run clear the pork is cooked. Alternatively use a meat thermometer. When cooked, the pork will have an internal temperature of 75°C. Stand for 10 minutes before serving.
Peri Peri Chicken Burgers
Ingredients
2 Tbsp olive oil
1 tsp finely grated ginger
1 clove garlic, crushed
1 red chilli, finely chopped
2 Tbsp chopped fresh parsley
½ tsp Gregg's Lemon Pepper Seasoning
400g skinless chicken breast fillets (2 × 200g pieces)
4 burger buns, cut in half and toasted
½ cup HEINZ [SERIOUSLY] GOOD™ Peri Peri Mayonnaise
1 red onion, sliced into thin rings
1 Lebanese cucumber, peeled into ribbons*
1 cup fresh coriander leaves
Method
1. Combine the olive oil, ginger, garlic, chilli, parsley and Gregg's Lemon Pepper Seasoning in a small bowl.
2. Slice the chicken breast fillets in half horizontally to form 2 thin fillets. Place the chicken fillets into a shallow dish. Rub the herb and spice mix into the chicken. Cover and refrigerate the chicken for 30 minutes to marinate.
3. Cook on a preheated BBQ over medium heat, for 10–12 minutes, turning once during cooking, or until the chicken is cooked. Alternatively cook in a dash of oil in a frying pan.
4. Spread each burger bun base with HEINZ [SERIOUSLY] GOOD™ Peri Peri Mayonnaise. Top with a chicken fillet, red onion, cucumber and coriander. Top with the bun lid and serve.
Honey Soy Chicken Nibble Marinade
Ingredients

500-750g chicken nibbles
125g pouch Wattie's Wok Creations Honey Soy Stir-Fry Sauce
1 tsp finely chopped ginger
1 tsp crushed garlic
1 tsp chilli paste or fresh chilli finely chopped
1 Tbsp oil
Sesame seeds (serving suggestion)
Method
1. Whisk together the entire pouch of Wattie's Wok Creations Honey Soy Stir Fry Sauce with the ginger, garlic, chilli paste and oil.
2. Pour the marinade over the chicken nibbles and leave in the fridge overnight or for 1-2 hours.
3. Once marinated, place the nibbles on the BBQ or in the oven until the chicken is cooked through.
4. Serve with sesame seeds scattered on top.
Classic Potato Salad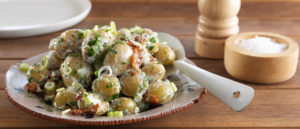 Ingredients

700g bag gourmet baby potatoes, washed and left whole
2–3 rashers bacon, diced
2 Spring onions, chopped
Handful of fresh parsley leaves, chopped
¼–½ cup HEINZ [SERIOUSLY] GOOD™ Original Mayonnaise
Method

1. Cook the potatoes in boiling, lightly salted water for 15–20 minutes or until tender. Drain. Set aside until the potatoes are cold. Cut potatoes in half if necessary.
2. Fry the bacon pieces in a pan over medium heat until golden and crispy. Drain on paper towels and allow to cool.
3. Put potatoes, bacon pieces, spring onions and parsley into a large mixing bowl. Mix through HEINZ [SERIOUSLY] GOOD™ Original Mayonnaise